Carol Weygandt Chappell, MD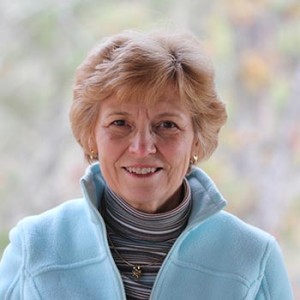 Dr. Carol Chappell is a comprehensive ophthalmologist and is a diplomate of the American Board of Ophthalmology.  She was born and raised in Akron, Ohio.  She received her undergraduate degree from Wittenberg University in Springfield, Ohio.  She earned her medical degree from the University of Arkansas for Medical Sciences in Little Rock, Arkansas, and then completed a rotating  internship in followed by an ophthalmology residency at UAMS.  She then opened up a solo comprehensive ophthalmology practice in midtown Little Rock, where she continues to practice.
Dr. Chappell holds staff privileges at Springhill Surgery Center, Fair Park Surgery Center, St. Vincent Hospital, the University of Arkansas for Medical Sciences, and the Little Rock Veteran's Administration Hospital.
Dr. Carol Chappell specializes in evaluation and treatment of many eye problems including: cataracts (including implantation of specialty intraocular lenses), glaucoma, macular degeneration, dry eyes, glasses and contact lens measurement and fitting, and many other issues. She is highly regarded in the medical community and has been named one of Arkansas' top ophthalmologist many times.  She is a member of the American Academy of Ophthalmology, the American Society of Cataract and Refractive Surgeons, the Arkansas Medical Society, the Pulaski County Medical Society, and the Arkansas Ophthalmological Society.
Dr. Carol Chappell is married to Charles Chappell, PhD, and has three sons, Chris, Tim, and Michael.  She is also proud to have three grandsons and one granddaughter.   Outside of medicine, Dr. Chappell enjoys travel, knitting, gardening, spending time with her family, and any time at the lake.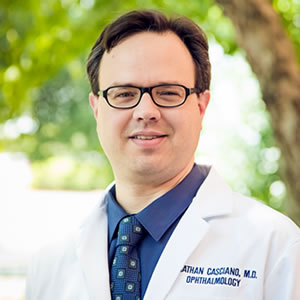 Dr. Jonathan Casciano was born in Little Rock in 1974.   He grew up in Little Rock and was active in the local youth orchestra during middle school and high school.  Jon is a proud Tiger, graduating from Little Rock Central High in 1992.  Dr. Casciano then attended Brandeis University on a music scholarship for violin and received his Bachelor's and Master's degrees in American History in 1996.  He spent several years living in Boston before deciding to go to medical school, and in 2000 he moved back to Little Rock to attend the University of Arkansas for Medical Sciences.
While in medical school he was a member of Alpha Omega Alpha.  Dr. Casciano was accepted to the prestigious Jones Eye Institute for training in ophthalmology.  During medical school Dr. Casciano married his wife Shelley, and they have two young boys who currently attend Little Rock Schools.  During residency, Dr. Casciano worked at UAMS, Arkansas Children's Hospital, and the Central Arkansas Veterans Administration hospital, and he won the resident of the year award in 2009.  He was accepted to the University of Michigan Kellogg Eye Center and spent a year studying cornea transplantation and external eye diseases with the world-renowned faculty in Ann Arbor.  After training, Dr. Casciano spent several years working in private practice in New Hampshire, before returning to Little Rock with his family.
Dr. Casciano was recently Chief of Ophthalmology at the Central Arkansas VA, where he oversaw a major expansion of services to our region's veterans.  In addition to his extensive experience with cataract surgery, Dr. Casciano has been active in teaching cataract surgery to ophthalmology residents.  At the VA he was responsible for corneal transplantation and ocular surface diseases, but he also performed medical and surgical glaucoma care and participated in the supervision of a large retina service.
Dr. Casciano is thrilled to join a mentor, Dr. Carol Chappell, and he is currently seeing patients at Arkansas Ophthalmology Associates.